A good coat is a crucial part of any woman's wardrobe. This piece of clothing must not only be warm and comfortable, but it must also look flattering on your body shape, all while being stylish. So, as you can see, selecting a perfect coat can be a rather difficult task. However, after doing some research on various types of coats and finding out how different styles suit your figure, it will not be a challenge for you anymore! We created this guide to help you understand the wide world of trenches, puffers, and aviators better, as well as choose a coat that looks immaculate on your body shape.
Types of coats
Before looking for a perfect coat for your figure, you need to get a better understanding of what types of coats there are. The modern fashion industry has many styles to propose. You can find shorter or longer cuts, coats made from various materials with different levels of insulation, universal pieces, as well as things that are meant to be worn in more specific situations and conditions. Among such a wide array of choices, you will definitely find a coat that is perfect for you!
Here are some of the most popular women's coat styles: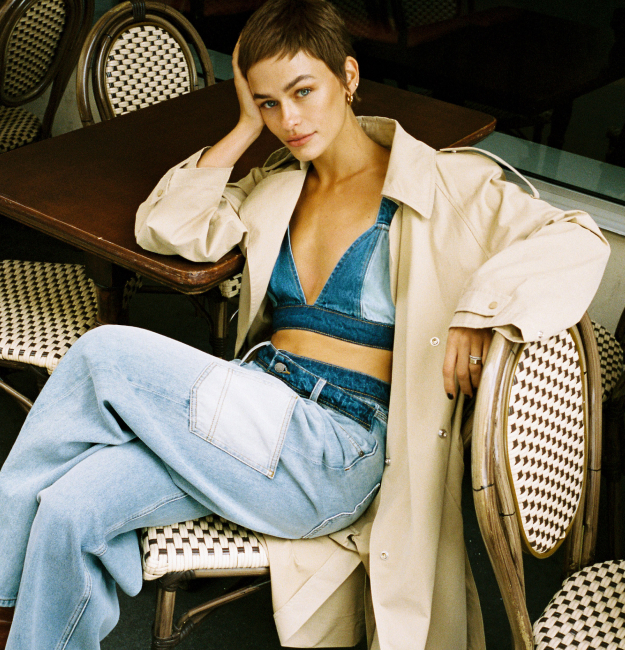 the trench coat – this is a classic style that you can wear with almost any clothes underneath. If you want to feel like a 1930-s gangster, a weary mysterious detective from a noir film or the British duchess – a trench is where it's at! This long double-breasted coat, often belted at the waist, will add a chic note to any look;
the aviator jacket – insulated with natural or faux wool, the aviator jacket will not only make you as warm as possible but also will make you look like a true fashionista! The upper of this coat is frequently made from leather or suede, making it look even more luxurious and stylish. Aviator jackets are short, usually ending at a hip or waist length;
teddy bear coats – despite its nostalgic name, the teddy bear coat is definitely not outdated! This style is one of the trendiest at the moment and many companies are coming up with their own version of the coat. Made from soft and warm wool, it will keep you warm and stylish at the same time;
double breasted coats – this style can be considered truly iconic as it can be seen on long trenches, short jackets, even on blazers. So, if you want to create a timeless classy outfit – double breasted coats are the way to go;
the belted jacket – belted styles of coats are the best choice for emphasize your waist and create a gorgeous balanced silhouette. Belts can be used both on long and shorter styles of jackets – however, short coats are frequently belted only if they come down to your hipline;
puffer coats – these jackets are suitable for an everyday wear and sometimes have more of a sporty look than previously mentioned styles. They are very trendy nowadays due to their comfort and versatility, so various brands had made their own turn on a puffer jacket. However, you should be careful wearing them – puffers are rather voluminous and can unintentionally add some unwanted bulk to your figure.
Choosing a coat to suit your body shape:
hourglass - women with an hourglass figure frequently have a curvaceous body with full, round hips and a bigger bust. Hourglass body type is also characterized by a clearly defined narrow waist. If you have this type of figure, you should focus on belted styles of coats – for example, trenches, which will hug your shape beautifully and focus attention on your curves. However, women with an hourglass figure have the luxury of looking immaculate in almost any type of coat, as long as it is not too boxy or oversized;
pear shape – this type of figure is similar to the previously mentioned one – they both have gorgeous curves with a small waist and a defined bust. However, the hips of women with a pear-shaped figure are wider and fuller than the upper part of their body. To create a more balanced look, women with a pear body shape night want to look for belted coats with a soft A-line silhouette, broader structured shoulders, and detailing on the upper part of the piece;
triangle - the triangle-shaped figure is characterized by having beautiful broader shoulders, as well as narrower waist and hips. Essentially, if you have this type of figure, the upper part of your body is slightly bigger than the bottom. If women with pear-shaped figure need to look for coats with detailing near the shoulders, women with triangle-like figure should choose coats with embellishments in the skirt area. A jacket with a trapeze silhouette or a coat with a flared bottom that has pockets, folds, etc. will help to balance your figure visually;
oval shape – women with a defined bust, narrow hips, and petite arms and legs most certainly have an oval body shape, also frequently referred to as an apple shape. Such a shape is characterized by having a slightly fuller torso area. Oval body shape needs some structure to balance it out – so, if you have this type of figure, pay attention to hip-length jackets and A-line coats. You should avoid oversized of formless styles, because they might make you look bigger that you actually are;
rectangular shape - if your shoulders, hips, and waist are similar in width – you probably have a rectangular body type. Women with a rectangular figure have a more petite bust and frequently are pretty tall. Almost any styles of coats will look good on this body shape, however, you want to focus your attention on coats that will give your figure more definition – for example, belted or slightly flared. Double-breasted styles will bring some balance into your look and make your bust look a bit more defined.
Examples of coats suitable for each color type
When choosing a perfect coat for yourself, you must pay attention not only to the style of the piece but also to its color. It can really make or break the outfit – if you choose a color that is too bright, it will pull attention from your own appearance, and if you select a neutral shade that does not work with your color type, it will wash you out. So, picking a color that will work well with your appearance is a crucial part of selecting a suitable coat.
If you have light eyes and hair that do not create a lot of contrast with each other, you should pay attention to coats in more neutral or pastel colors. They will not draw attention away from your complexion, but will accentuate it and let your tender beauty shine.
If your eyes and hair have a darker shade and create more contrast – more saturated and bright colors are the way to go! They will emphasize your prominent features, while not competing with them for dominance.
If your appearance has warm undertones, you should look for coats in warmer shades: red, brown, yellow, peach, darker green, etc. These creamy shades will make you shine like never before!
If you notice that cooler shades are prominent in your features, keep an eye out for outwear in cooler colors – for example, purple, blue, grey, pink, etc. However, if you want to try out a warmer color – try bright red, it will make your complexion look radiant and bright.
There are also some colors that will suit anyone, no matter their color type. For example, a right white shade will make you look fresh-faced and rested. A classy purple will make anyone look like a member of a royal family. And a softer or brighter teal will add a sense of ease and novelty into your every outfit.