How to choose and wear a winter coat?
Choosing a perfect winter coat is a very important task as you will wear this piece of clothing for three to four months of cold and wet weather. It is crucial for the chosen coat to not only keep you warm, but also to look stylish and elegant. The coat also must easily combine with other elements of your wardrobe so that you are able to create coherent, beautiful looks. That is why we complied a small guide on how to pick and wear a winter coat.
Choose a coat color that suits you
A winter coat is a garment that you will wear practically everyday during the colder season and have to combine with other clothing. So, it is better to choose a coat in a neutral shade: grey, beige, brown, powder pink, muted red, black etc. It is not that we hate bright colors – sometimes they look truly gorgeous. If you are looking for a piece for some kind of special occasion, feel free to go wild! However, when searching for an everyday coat a better call would be to go for a calmer, easier to manage shade. Nevertheless, you must be careful not to choose a color that is too pale as it will wash you out. Try on a few coats in different shades and pick the one that looks the most flattering on you. If your skin has cooler undertones – you should pay attention to cooler shades of coats. And vice versa: warm skin undertones – warm shades. Do not let the coat wear you, wear the coat!
Choose a coat length for your lifestyle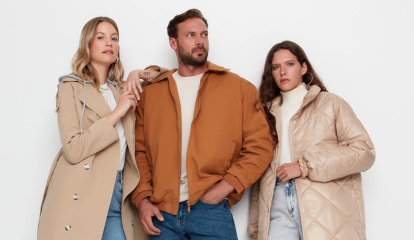 Today's fashion market proposes a wide range of various warm outer wear: from short pea coats to ankle length trenches. When choosing an everyday winter coat, you must consider you lifestyle – how much time do you spend on various types of transport, how fast do you need to get ready in the morning, how much do you move throughout the day etc. If you need to travel a lot by communal or personal transport – a shorter coat will be more comfortable for you as it will have less fabric for you to manage during your daily commute. The same goes for getting ready in the morning, because a shorter coat is quicker to put on and take off. However, if you are a fan of Sherlock BBC-style long pieces – absolutely go for them! While short coats might be more practical, nothing will substitute the elegance of a long trench flaring behind you as you briskly walk through a chilly autumn evening.
How to wear short, long coats?
You can wear short coats with pants, as well as skirts and dresses. However, you might want to avoid pairing a short coat with a short and flared skirt – it will make your figure look disproportionate. Yet, really short, cropped coats look nice with maxi length dresses and skirts. There is little possibilities for styling a short coat itself – frequently, it is pretty self-sufficient. Nevertheless, you can add a scarf or a hat to add a personal touch to the look. With long coats there is a little bit more room to play. If the coat is straight-cut, you can always belt it at the waist to accentuate your figure. You can also wear this coat with dresses, pants, and skirts of various fashions. However, if you are short it is better to style such coat with heels – shoes with flat soles may disbalance your figure.
Choose a coat that fits your body type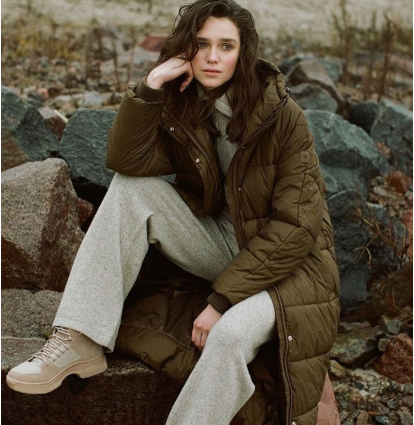 If you are curvy, you might want to avoid straight coats as they will hide your beautiful figure or even make you appear bigger in size than you actually are A more voluptuous body type looks best in coats that do not hug the figure too tightly, however put an accent on the waist. Therefore, you might want to pay attention to belted pieces or coats with A-line silhouette. You should feel comfortable while wearing the coat, it must not restrain your movements. It also must not bulge or tug in any areas as it negatively affects not only your own comfort, but also the overall look.
What do you usually wear under your outerwear:
sweaters – if you frequently wear chunky warm sweaters, you should search for coats that are a little bit oversized as they will give more space to accommodate another thick layer of clothing;
dresses –mini and midi as well as long flared dresses pair well with longer coats. You also should remember that oversized coats draw attention to the silhouette of the dress. So, if you want to rock a tight piece in a colder season – make sure that you combine it with a loose trench!
simple or multitasking clothes – this type of wear will pair well with short coats as much as the long ones. However, as we already mentioned before, short coats tend to be more practical;
glamorous clothes – luxurious pieces = luxurious outwear! Try combining that glamorous dress with a cheek long coat in an eye-catching color! But do not overdo it – it takes one step from being an extraordinary fashionista to becoming a resemblance of a tropical bird.
What to style your coat with?
A winter coat is a universal piece of clothing that may be paired with many interesting accessories, various types of boots etc. For example, a long oversized coat will look great combined with high chunky boots that give off a cool grungy vibe. Coats will also nicely pair with heels as well as flat sole shoes.
You can also accessorize your winter coat with a scarf and a stylish hat. If your coat has a neutral shade – why not get a bright shawl to put a pop of color into the look?
However, you must remember that these are some general tips. Each of us has their own sense of style, so only choose clothing that makes you feel your best!