Some people think that dressing classy is expensive and tiring. You spend a lot of money and time on shopping, but fashion trends change too fast. Are there any simple tips on how to look chic on any occasion without trying too hard? How to organize your wardrobe in a way that you always have something nice to wear? And the main question – what pieces of clothes are gonna be trendy for a longer time? All this and more you can find out in this article.
How to dress stylish for any occasion?
We're all different and for all of us the term "stylish" can mean different things. Fashion doesn't have strict borders, so for some people one piece may look classy and for another person the same thing might appear to be too extreme/baggy/slim/bright/boring (underline the necessary word). But definitely there are some basic tips for people on how to look good in any case scenario.
1. Dress up according to your body type
Analyze your body type. For example, if you have an hourglass body shape, try something that is gonna accentuate the waist. Avoid outfits that are too baggy and go for something more feminine and sexy like a minidress or a high-waisted miniskirt. For a round body shape choose a dress with a thin fit that falls above the knee or a loose-fitting shirt with a pencil skirt. Although this body type has wonderful legs and a thin waist, it lacks definition from the hips up. So follow the trends, but also don't forget to pick those fits that make your body look good.
2. Be neat
Look at your outfit and check if it has any pillings, stains or snags. Use a nice washing conditioner and perfume for an impeccable odor of your clothes. Doesn't matter what's the occasion, you should always check how clean your shoes and clothes are.
3. Choose comfortable outfits for any occasion
Doesn't matter if it's a casual or formal event, a rock concert or a business presentation – you always have to be comfy in the clothes that you wear. Buy shoes that don't rub your feet, ideally the ones made with materials that guarantee breathability. Don't wear a pair that makes you suffer with every step, cause you won't feel confident the whole time and, as a result, not stylish at all. Don't forget to consider if it's an indoor or outdoor event, check the weather and dress up according to it.
How easy it is to look expensive?
Now, as we already know the most basic rules on how to look classy, let's discuss how to make your outfits look even more fabulous. You don't have to be crazy rich for your clothes to seem expensive and chic. Here are some tips that will help you create this new trendy "old money" vibe in your wardrobe even if your budget is limited.
1. Buy quality over quantity
Cheap fast-fashion clothing quickly loses its shape and fades in color, making it unattractive over time and forcing the purchase of new clothes very soon. For instance, instead of buying fast-fashion brands, search for some premium-quality retail chains or brands with mid price range. On INTERTOP.COM you may find such brands as Armani Exchange, Marc O'Polo, The North Face, Emporio Armani, Timberland and others. Their clothes are more expensive than a hypothetical H&M, but with INTERTOP.COM sales you can actually buy these high-quality pieces for a much cheaper price.
2. Purchase some classic pieces
Invest in timeless pieces such as a pair of black ankle boots, straight-fit blue jeans or cashmere coat. It's crucial to keep in mind that classics aren't always tedious, you just have to combine them with other trendy pieces.
3. Simple is best
Have a collection of basic pieces in your wardrobe! Every person has its own interpretation of what that involves, but ideal investments include a white shirt, a leather jacket, a wool sweater and a pair of white sneakers. These are the ones that are gonna become the base of your everyday casual outfit.
4. Don't allow too many colors in one outfit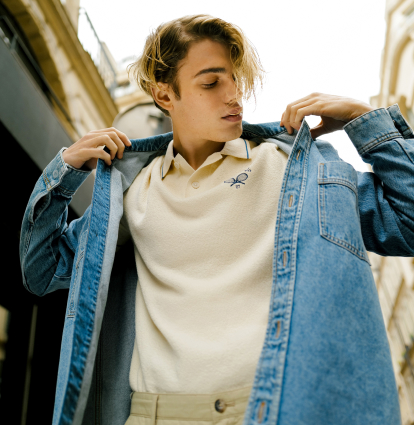 Learn which colors complement your skin tone the best and try to create a capsule wardrobe in those shades. The best option both for formal and casual outfits is to get some neutral colored pieces. Don't mix the whole palette of colors in one look – it's gonna appear more elegant and rich if you stick with 2-3 colors. Try experimenting with accessories to add some brightness to it or even better – buy jewelry that will become a final and exquisite touch in your outfit.
What are the basic closet items needed for women and men?
Women's basic wardrobe should include a white shirt, blue and black jeans, a warm sweater, a pair of black high-heels and a pair of simple white sneakers. Also don't forget to buy at least one classical and one casual summer dress that will make you feel sexy and classy in different life situations. First things first, buy yourself minimum 2 simple winter outerwear pieces – a sporty puffer jacket (e.g. The North Face one) and a feminine long coat to look like a real lady. Sport training might also require some basic items in your wardrobe like black leggings, sport bras and running shoes. We'd recommend not to save money here and pick premium-quality sport clothes with breathable materials and fabrics (for example, EA7 collections).
For men basic closet items are white and black t-shirt and shirt, blue denim jeans and at least 2 graphic tee-shirts for a chill summer look. For sport training it's better to buy pieces that will serve you for a long time and will make you feel as comfy as possible: t-shirts, hoodies, pants and sneakers. For business events and formal meetings purchase a tuxedo, black trousers and some classy pair of shoes. Great idea would be to have 2 watches: a smart watch for everyday use and fitness and a dress watch for special occasions like weddings, dates and business meetings.
When do you need to wear casual or formal clothing?
How do you decide if the event is casual or formal? And how to not appear overdressed or underdressed for the meeting? For informal and laid-back occasions like shopping, friend gatherings, family trips etc., wear something chill and casual. For example, t-shirts (polo shirts, turtlenecks, etc.), summer dresses, jeans, jackets, hoodies, skirts, sneakers, loafers, and sandals. For formal occasions like weddings, work dinners, and ceremonial occasions, people dress in formal attire. It includes a suit, a dress shirt, dress shoes, and a tie for men. And dress shoes, blazers, blouses, and business suits for women. Also it's appropriate to wear classical pants or trousers.
How can accessories help?
Without a doubt, accessories are important when it comes to your outfit. It gives us means of expressing our uniqueness and personality. Stylish accessories always look classy both for male and female looks. The good trick is to add some beloved pieces like a set of statement earrings, or a new belt to your basic pair of jeans, or a necklace paired with your chic little black dress. Accessories are also extremely important for men even though they often neglect it. A nice leather belt, a wallet or a bag can really make a difference when you pick your outfit of the day. Pay attention to brands like Emporio Armani, Calvin Klein, Guess, Tommy Hilfiger, Marc O'Polo etc.
How to dress classy for women and men?
In conclusion, let's discuss what are the universal rules for both men and women on how to dress classy.
Wear the right fit
Pick neutral colors that complement your skin tone
Wear clothes made with high-quality fabrics
Be neat
Wear elegant and stylish accessories
Put on sexy undergarments (+100 points to your confidence)
Follow fashion trends considering your body type
Have a capsule basic wardrobe and add up some fashion trends to it
Choose comfort and simplicity
You ought to have a clearer understanding on how to dress classy and elegant for every event after reading this article. Hope you enjoyed!