Introduction
Finding a perfect dress can be a tricky task – besides picking the most flattering style you must also choose a garment you will feel most comfortable in. The key factor in selecting a dress that will suit your figure flawlessly as well as provide you with a sense of ease is finding a gown of the right size.
Frequently, it is rather difficult to find your perfect dress size as different shops and brands have divergent sizing systems. Which is why you must know your own measurements – it will help you to navigate the sizing charts of any company or store. Thus, we created a guide on how to properly measure yourself and provided a standard sizing chart for dresses, so that you know what to look for on your next shopping spree.
Women's dress size chart
Women's dress size chart is a standardized system that will help you find a suitable gown based on your body's measurements. It is especially important while shopping for a dress online since you cannot just try it on and see if it fits in real time.
Earlier we mentioned that the sizing charts of different brands may vary. It is applicable not only for fashion companies or shops, but also for countries. So, if you are ordering a dress from abroad online or buying a gown from a foreign designer in your local store – it is better to search for the country's traditional sizing chart to find a perfect fit for yourself.
But how to estimate your dress size correctly? To do this, you must measure your bust, waist and hips.
How do I measure my waist, bust and hips?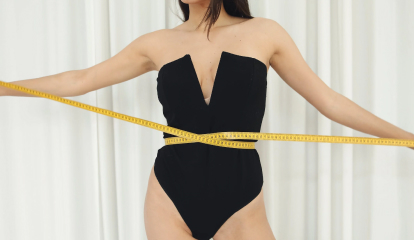 Firstly, you must carry out the measurements against your bare skin because clothes may cause inaccuracies which will affect the size selecting process.
Secondly, the tape that you are using for measuring must be flexible. You must not press it into your skin too tightly or hold it loosely as it may also result in inaccuracies.
While measuring the bust, you should wrap the tape around the fullest part of it. It is also important to make sure that the tape is straight while passing over your back.
While measuring the waist, you should wrap the tape around the narrowest part of it.
While measuring the hips, you should make sure that your feet are placed together and wrap the tape around the fullest part of your hips. Usually, it is located at around 20 centimetres below your waist.
What to Do After Measuring
After finding out your exact measurements you will be able to easily determine the correct dress size according to a sizing chart of a specific designer or company. Such charts are usually available on brands' online sites, so you will find them with no problems. If the dress you are looking for sells in stores only, you can call the shop to find out if they have a gown in your size, thus making shopping a lot easier and quicker.
Standard Dress Sizes
Standard dress sizes are the sizes that are based on measurements of a woman with an average height and weight. As it was mentioned earlier, the sizing charts may very between different countries. For example, the UK's dress size 12 will be a size 8 in the US, so you must be attentive to the brand's native state, especially when shopping online.
There are also standardized sizing systems for petite and plus size women – they provide more inclusive sizing.
If you notice that, for instance, your bust measurement corresponds with one size and hip measurement with another – it is better to buy a dress that will fit your hips correctly. They are frequently the widest part of your figure, so if the dress is too tight on them it will be difficult for you to move and sit comfortably.
About Sizes and Choosing Casual Dresses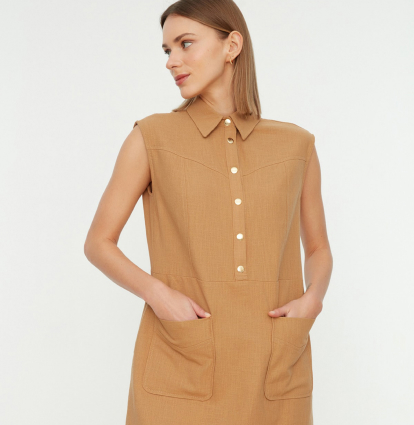 You must be very attentive to sizing while selecting a casual dress. As you will wear this piece frequently it is crucial that you do not feel any restraint while doing everyday things. Which is why it may be better to choose casual dresses with a looser silhouette – it will not be too tight on your figure and allow to hide possible imperfections. However, if you are feeling more comfortable while wearing a snugger piece – you should totally rock it! Just make sure it is a perfect fit for you combines with your wardrobe well.
About Sizes and Choosing Evening Dresses
While looking for an immaculate evening gown for a special occasion, you may realize that it is rather difficult to find a piece that suits you perfectly right off the rack. Frequently, there are some alterations needed to make the dress fit you flawlessly. However, not everyone has a budget to accommodate such modifications, so you should try on at least a few gowns and choose the one that suits you best.
About sizes and choosing wedding dresses
Every bride wants to have a perfect wedding dress which not only will flatter her figure but also will be comfortable to dance and eat in – so it is important to find a gown that will fit immaculately. Sometimes shopping for a wedding dress can get confusing as such pieces are frequently created smaller than other gowns. So, remember – if your usual dress size is 14 you should also try on garments in a size 16. It will not always be a better fit; however you will be sure that you are looking for the right size.
As it was mentioned earlier, if you are looking for gown from one specific brand or designer, you should look up their specific sizing charts online or call them directly. This way you will be confident in your needs while shopping.
If I plan to lose weight, how do I choose my size?
If your goal is to lose some weight quickly, it may be tricky to buy clothes that will fit you right because your body is changing every other week. Some might say that you should just get new pieces after losing a certain number of kilos, however, not everybody has a budget for it. So, our advice would be to get dresses that may be a bit tight on you, but you can still fit into them. If you will be consistent with your weight loss journey, the piece will fit you perfectly later. Nevertheless, do not buy dresses that are two or three sizes smaller – you may become discouraged if they do not suit you as quickly as you want them to.
And remember – your dress size is not a reflection of you personally, it is just a number that does not define you in any way. You must not fit into clothes – the clothes must fit you!