Nowadays the topic of sustainability is something we hear about a lot. People are deeply concerned about the ecological situation in the world and try to minimize their individual negative impact on our planet. It happens in almost every aspect of life: traveling, food, self-care and, of course, fashion. And many brands and companies are trying to go with the trend and create eco-friendly or organic collections to reduce their carbon footprint and waste.
Recently a relatively new term "circular fashion" has appeared in the industry. We keep hearing about it more often, but what's the real meaning behind it? What does it consist of? How to make it a part of your life? And does it actually help the environment? You'll find out all the details and explanations in this article.
What does circular fashion mean?
Circular fashion is basically the concept of minimizing the production of waste that is harmful to the environment by recycling, repurposing and rewearing garments when it's possible. The idea that lies behind it is the less you buy, the less things end up in a landfill. And to make it possible not only consumers have to rewear clothes or buy vintage items, but brands have to change their priorities and production methods.
It all starts from the very beginning of the production process. Fashion companies start using sustainable materials and fabrics, recyclable packaging and, first thing first, prioritize workers' and animals' rights. The main idea is that the life span of the item becomes rather cyclical than linear – it doesn't go straight to the dump after you wear it for some time as it usually happens with fast-fashion brands. It is designed in a way that you can resell it, rewear, remake or, in the end, recycle.
This type of economy is called circular and can be applied not only to the fashion industry. Its goal is to maximize resource usage and minimize waste as much as possible.
But what can you personally do to implement circular fashion into your life? Let's discover.
Second hand and vintage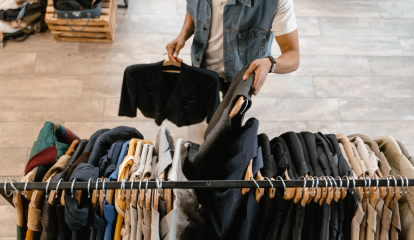 First thing that comes to mind when we talk about circular fashion is thrift shopping. In terms of affordability it's the best way to do shopping in general.
You can create unique looks that no one will ever be able to copy + save a huge amount of money on clothes, shoes and accessories. Moreover, you'll have a chance to get things from iconic brands that are no longer available in new collections. And the best part here is that you not only buy something special for yourself, but also do not impact our planet in a negative way.
Second hands and vintage stores can help you explore your own sense of style and give a second life to a garment that would otherwise go straight to the dump. So take your friends and go have a collective vintage shopping day, you're not gonna regret it!
Clothes for rent
Circular fashion is not only about buying something. Sometimes when you have a special occasion, you need a fancy outfit like a wedding gown, a prom dress, a tuxedo or some kind of costume for a theme party.
The best option here is not to buy a piece that you'll probably wear a couple times (if not even once), but to research some rental services. In this case you'll save an immense amount of money and won't leave any carbon footprint or waste with the new purchase. Rental services usually offer a huge choice of brands, fits and colors, so definitely try it instead of shopping!
Resell on websites
Next option is not only gonna save your garment from the landfill, but also bring you some money. Do a wardrobe revision, find items that you no longer wear and post them on multiple fashion reselling websites. This idea is great, because you give your clothes a second life and also can make someone fall in love with the design of the garment you don't wear anymore.
Buy clothes from circular brands
Today more and more brands support circular economy and sustainability. Usually these are local young brands, but some iconic designers also started taking the idea seriously. Make a list of fashion brands that use natural materials, recycle their garments, create good-quality clothes with timeless designs that can be worn for a longer period of time.
Such popular brands as The North Face, Adidas, Stella McCartney, Patagonia and others are already a part of the circular economy system. You can find many of them on INTERTOP.COM.
Choose eco-friendly fabrics
If you don't have the opportunity to buy stuff from circular brands and can't find what you need in a thrift store, there's another option for you. Pay attention to the materials and fabrics!
Even such fast-fashion brands as H&M, Zara and Bershka use sustainable fabrics in some of their garments. Firstly, find out if it's a natural biodegradable fabric (e.g. wool) or a synthetic but recyclable one. Then touch the material and try to think if it's a good enough quality in general. The longer it serves you (or someone else after you), the longer it won't end up in a landfill.
Clothing swap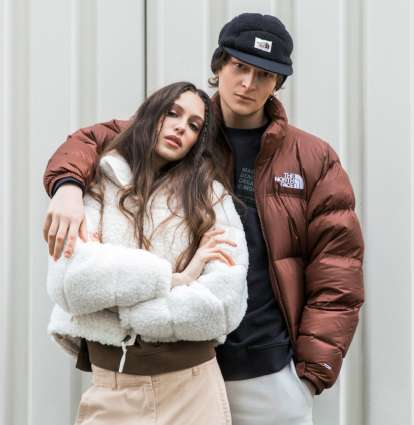 One of the most exciting parts of circular fashion – clothing swaps. The idea is to swap clothes with people you know (friends, siblings, other relatives) or take part in one in your city. It's a collective event where you give clothes that you don't wear anymore to other people and take some garments from them as well.
The idea is simple and really eco-friendly – instead of throwing something away, you share it with people and get something for yourself as well. Also, it's an amazing opportunity to experiment with your style, add up something unusual to it and have a great time trying on "new" clothes.
Remaking clothes
Remaking clothes is another good option, but only if you're ready to invest some time (or money) into it. Let's imagine a situation where you don't wear your jeans anymore cause they look worn-out and kind of "tired". You can cut them and make shorts out of them. Or put some trendy patches on worn-out areas. Options are actually limitless depending on your skills and imagination.
As well as doing it yourself, you can also try going to the local atelier. If your jacket or a dress doesn't fit, they can make it look perfect on you.
Rewearing clothes
Trends are naturally repeating themselves from time to time. It means that you may revise your old wardrobe and realize that these skinny low-waist jeans don't actually look that bad. And maybe you even saw them on some fashion influencer a couple days ago… Try rewearing garments adding new elements or accessories to the outfit, so it looks more trendy and up-to-date.
And also try to look into your mom's or dad's wardrobe. Trends from the 80s and 90s are taking over the world, so their old clothes may become your new favorite outfit.
Recycling clothes
And the final sustainable step you may want to take with your old piece of clothes – bring it to the recycling point in your city. Sometimes retailers have their own recycling programs, so it is possible to bring your old garment to their store and leave it there.
Do some research, take your unwanted clothes and do the right step towards a sustainable eco-friendly lifestyle.